Mitsui Fudosan's Logistics Facilities Business
Mitsui Fudosan's business statement for the Logistics Facilities Business
"Connecting Values Together with Customers and Creating New Value Together with Customers"
As a partner in developing solutions for our tenants, we forge connections among a wide variety of people, goods and ideas, taking on the challenge of creating value beyond conventional boundaries. We contribute to making modern life and society more fulfilling for all.
Mitsui Fudosan's strength in the logistics facilities business
Locating projects (generation of investment business opportunities)
By making use of the Platform (business foundation) and broad client network it has developed as a comprehensive real estate company, Mitsui Fudosan stimulates the potential needs of client firms in the area of real estate by proposing corporate real estate (CRE) strategies and offering real estate consultancy. It also offers advisory services on CRE strategy, such as providing solutions for real estate development and sales that meet the needs of its client firms.
In developing new logistics facilities, Mitsui Fudosan carefully selects suitable locations by making use of a broad range of site-related information gathered from all over the country via its various developments undertaken in its office building, retail facility and housing businesses, in addition to that acquired via its logistics facilities business.

Development ability of logistics facilities
Mitsui Fudosan develops logistics facilities after considering the characteristics of the acquired land as well as the property type that satisfies potential demand of tenants, establishing profitable business projects with basic plans and detailed specifications.

(MFLP Hino)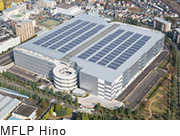 MFLP Hino is one of the largest leading-edge logistics facilities in the Tokyo metropolitan area, with a total leasable area of approx. 187,000 square meters and a standard floor area of approx. 37,000 square meters. It features a double rampway that allows freight trucks direct access to each floor. Situated roughly 5 kilometers from the Hachioji IC of the Chuo Expressway, the facility is well located, allowing for speedy delivery to the Tokyo metropolitan area and the rest of the country as well as offering a ready supply of workers. It is fitted with a variety of equipment and has excellent specifications. In addition, it has a seismic isolation structure to protect both workers and cargo and prevent the disruption of facility operation.
Tenant leasing
In tenant leasing of logistics facilities, Mitsui Fudosan, as a comprehensive real estate company, has the advantage of being able to directly approach tenant firms, that is, end users and/or logistics firms (3PL providers, etc.), based on the broad and strong client network that the Mitsui Fudosan Group has developed.