Financial Strategy
Financial and Cash Management with an Emphasis on Stability and Efficiency
MFLP-REIT will manage its finances stably, including funds raised through the issuance of new investment units and borrowings, and at the same time it will aim to secure stable distribution levels and efficient cash management for distributions through continuous distributions in excess of earnings based on cash flow (FFO: Funds From Operations).
Stable financial management
| | |
| --- | --- |
| ・ | With regard to interest-bearing debt, we will focus on appropriate management of the long-term debt ratio and fixed rate ratio in consideration of refinancing risk and interest rate risk, and consider how to optimize financing through maturity extensions, fixing of interest rates, and diversification of maturity dates. |
| ・ | Our basic policy for LTV is to maintain a conservative level. We intend to target a level of 40–50% in the medium and long term. |
| ・ | We will aim to establish a stable bank formation centered on funding from major domestic financial institutions. |
| ・ | We will also consider issuing new investment units and investment corporation bonds, based on a comprehensive view of future funding needs, changes in investment unit prices, and financial market trends. |
Efficient cash management
In logistics facilities, the ratio of building value to land value is typically high. Based on this characteristic, MFLP-REIT intends to make cash distributions, including distributions in excess of earnings, on an ongoing basis each term from a perspective of securing stable distribution levels while managing cash efficiently. For the time being, we will calculate distributions (including distributions in excess of earnings) at an amount equivalent to approximately 70% of FFO (excluding profit or loss on sale of real estate) for the relevant fiscal period and decide the amount based on a comprehensive assessment.
Key points of cash distribution
| | |
| --- | --- |
| Level of distribution | For the time being, we intend to pay distributions (including distributions in excess of earnings) calculated at an amount equivalent to approximately 70% of FFO (excluding profit or loss on sale of real estate) for the relevant fiscal period on an ongoing basis each term, in principle. |
| Securing long-term building maintenance expenditures | Distributions in excess of earnings will be paid to the extent that an amount can be retained that is more than double the six-month average of capital expenditures stated in the engineering report for each operating period. |
| Securing financial stability | Distribution in excess of earnings will not be made if appraisal LTV exceeds 60% for each operating period. |
Diagram of distributions in excess of earnings based on FFO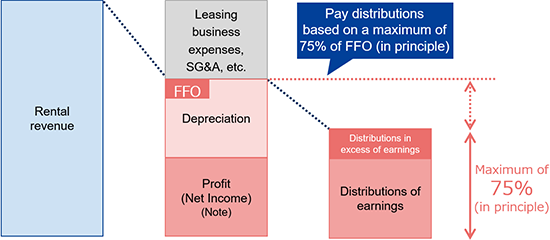 | | |
| --- | --- |
| Note: | Profit or loss on sale of real estate is not included in "Net income" in the above chart. |
Related links